Surelab Printing


Epson Surelab D3000 Lab Prints
The Epson Surelab D3000 is a new technology "DryLab" printer developed on Epson's tried and true Ultrachrome inkjet printing platform. These prints exhibit unparalleled colour gamut and clarity compared to traditional silver halide based lab prints. The ink set used is Ultrachrome D6, producing a archival quality print rated to 75 years, with no gloss differential.
Our standard print surfaces are lustre and gloss, although matte is available for an additional fee. Traditional and 35mm photo sizes are available as well as panoramas up to 12x48" (30.5x122cm). Prints can be exact size*, borderless or have a small 3mm border. Borderless prints will auto expand by about 3% so image details near the edge of the frame will be trimmed off. Please allow for this in your cropping.
This process is low cost, high quality and high volume, capable of up to 650 6x4" prints per hour, ideal for wedding, portrait and school photography markets.
An online print ordering system is in place for ordering prints online. Click on the button below to be taken to the print ordering page.
We use the Dakis print ordering system for online print orders. This is a secure system with online payment through PayPal for Credit Card transactions.

To order standard photographic or Archival Cotton Rag (matte) paper prints, choose the Online Print Ordering option above.
Colour Correction: Prints will, by default, be printed without any colour correction or sharpening added. If you wish us to correct your files, an additional charge will be incurred.
Lustre, Gloss and Matte Surface Prices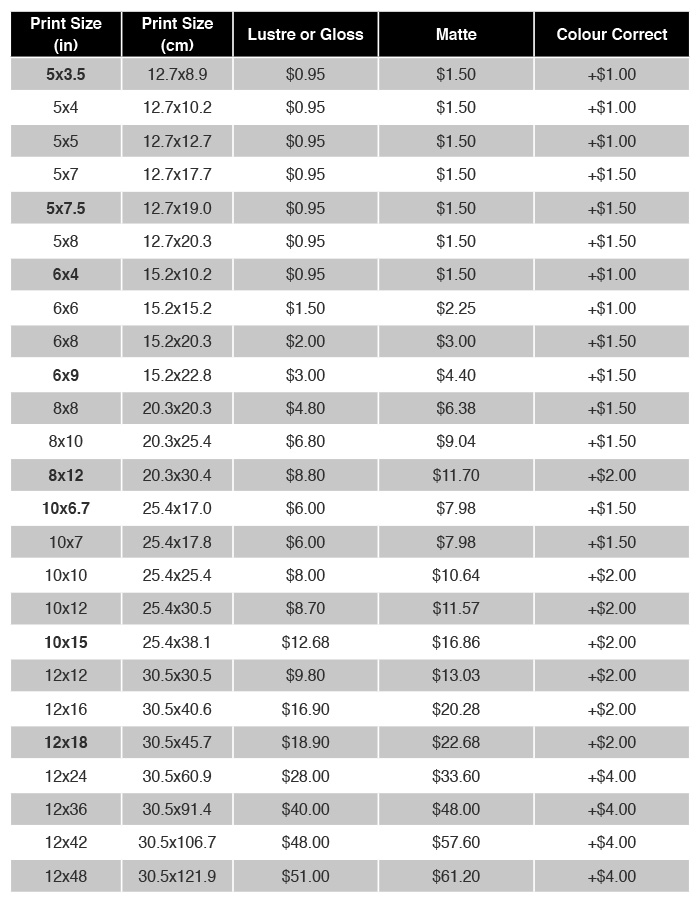 Sizes marked in bold represent full frame 35mm format images
Files sizes represent uncompressed 8 bit images at 240ppi. JPEG images will be smaller.
*Exact size prints may have a 0.3mm white edge on some sides due to trimming inaccuracies inherent in the printer mechanism
Image Requirements
The Epson Surelab D3000 accepts JPEG and Tiff files. Please submit your files at the exact size you wish them to be printed. Specifications are as follows:
Colour Space:

Adobe RGB or sRGB

Bit Depth:

8 bit

Layers:

None

Alpha Channels:

None

File Format:

Jpeg (quality 10 or 12) or Tiff

Resolution:

240 or 360ppi
By default, no colour correction or sharpening will be applied to your images. Please specify if you need this service. An extra charge will be incurred.
If sending images via Hightail, please separate your images into folders based on image size and surface. For example, if you have 10 8x12" lustre images and 40 6x4" gloss images to print, create a folder called 8x12" Lustre and a folder called 6x4" Gloss. This will allow us to process your order much more efficiently.
If you require multiple copies of certain images, up to 5, please include multiple copies of the file. If you require more than 5 copies, please provide clear written instructions with file name, size and copies required
Please specify if you wish for a small border to be printed on your image or if you want the image borderless. If the image is true borderless, you will lose approx 3-5% of the outside of the image in trimming.
When sending files via

Hightail

please still use the folder structure above. To further increase efficiency place all the folders into a ZIP file and send that single file from which we will decompress and extract the folders and files.
If sending images by post please include a covering note with any instructions for delivery, and your full contact details. Post to:
Full Gamut
197 Harrington Street, Hobart
Tasmania, 7000
Return postage will incur a delivery charge based on size and location, calculated via Australia Post. Most Tasmanian orders will be $12, mainland orders will be $15.

Minimum order Value is $5.00

All prices include GST