Melanie Stanger
Wildlife Artist
about Mel Stanger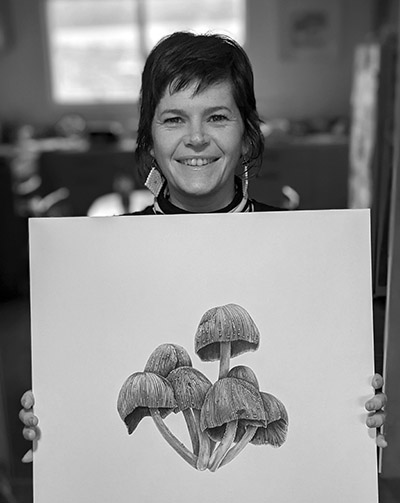 Mel is the Tasmanian artist behind The Changesmiths. Her happy place lies in the simplicity of monotone and the detail of the miniscule.

Her drawings are highly intricate observations of species in our natural world and stem from her love of nature. Her artworks invite the viewer

to absorb detail that would normally pass them by. Mel draws in pencil at a large scale and it can take her in excess of 100 hours to complete one of these comprehensive works.
Subjects range from the tiny and critically endangered red handfish to the mainland koala. From the hyper local of

timtumili minanya

/

Derwent Estuary to iconic eucalypt forests of Victoria.
Mel's artwork reproductions are available in A2, A3 and A4 size. A significant donation from every purchase goes to an important conservation cause:
Red and spotted handfish drawings support the Handfish Conservation Project.

Platypus supports the Hobart Rivulet Platypus.

Kookaburra supports BirdLife Australia

Koala supports Koala Clancy Foundation

Fungi supports the Bob Brown Foundation

Eastern barred bandicoot supports Bonorong Wildlife Sanctuary.
---