Canvas Prints and Float Frames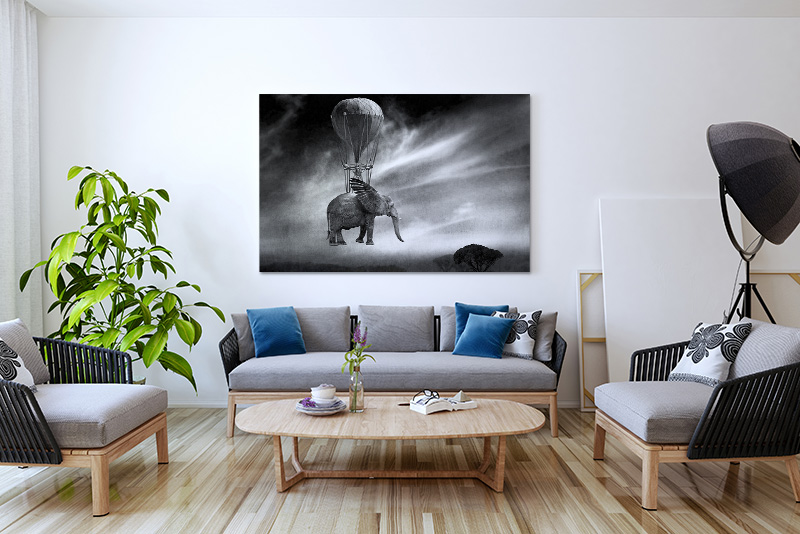 ---
Turn your precious images into works of fine art with Full Gamut's canvas printing and framing options. Canvas is very versatile, we use it for finished photographs and art reproductions. Canvas is ideal if you want to make an image into a large statement on the wall.
Tasmania's premiere canvas printers, Full Gamut produces archival, U.V lacquered canvas from digital images, slides or prints.
Visit our Hobart store or order your works online with delivery.

---
Printed to Archival Museum grade standards
Our state of the art printers produce sharp and vibrant images on any of our canvas materials. Only archival pigment inks are used in our process, with a fade resistant life of up to and exceeding 100 years*.
All our canvas prints are coated with a UV inhibitor for abrasion and fade resistance, further extending the life of the work.
We provide a Premium and a Midrange canvas option to suit any budget.
Our Premium Canvas is a textured, 440gsm Bright White canvas exhibiting exceptional sharpness and colour gamut.
100+ years certified archival by an accredited 3rd party.
No optical brighteners (OBA-free), yet still bright white.
Visually and measurably superior resolution and dmax versus competitors.
Matte finish | 19 MIL thickness | 440 GSM weight.
Our Midrange Canvas is a textured, 380gsm Bright White canvas suitable for all canvas printing applications.
380gsm weight
Produces vivid images with a huge colour gamut.
Exceptionally High D-max and image sharpness.
High Water Resistance.
Exceptional handling qualities: can be varnished, stretched and mounted with ease.

---
Canvas Stretching & Framing
Your canvas print can be finished with a stretched frame. This traditional canvas stretcher is 33mm deep off the wall, finished with framers tape, soft wall bumpers and a wire, ready to hang on the wall.
The canvas edges can be a white museum wrap, black (or any colour edge on request) or an image wrap. This is a reflected copy of part of the front of the image so you don't lose any of the image contents.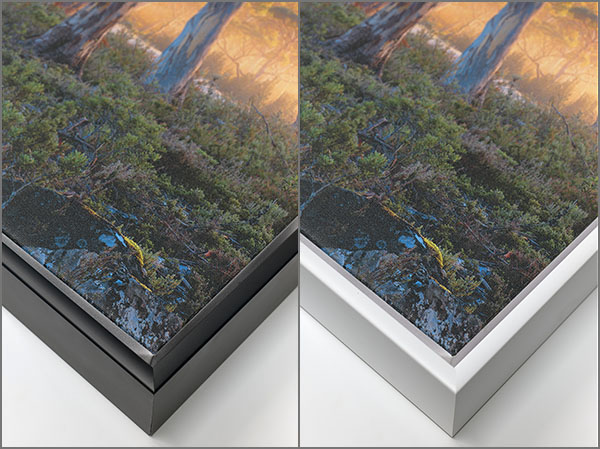 Float Frames
Add a Float frame for a fully finished framed piece. Available for order online in Black or White. Timbers and other tones are also available in-store but prices will vary with the choice of moulding.
These frames are made in our workshop using finest quality mouldings and workmanship. Finished with great care, these will be remain a contemporary and elegant design for years to come.

---
Canvas Pricing
Premium Canvas
Pricing table for Fixed Size Premium Range Canvas Prints
Print Size (in)
Print Size (cm)
Canvas Print Only
Print &
stretcher bar

Pint, Stretcher
and Float Frame

A3
29.7x42
$35.00
$108.00
$217.00
A3+
32.9x48.3
$35.00
$121.00
$242.00
A2
42x59.4
$70.10
$174.00
$320.00
A1
59.4x84.0
$127.50
$259.00
$458.00
A0
84x118.8
$221.00
$407.00
$688.00
10x10
25.4x25.4
$27.00
$92.00
$174.00
10x12
25.4x30.5
$27.00
$95.00
$184.00
10x15
25.4x38.1
$28.00
$102.00
$200.00
11x14
27.94x35.6
$29.00
$103.00
$201.00
12x12
30.5x30.5
$34.00
$106.00
$201.00
12x16
30.5x40.6
$34.00
$113.00
$221.00
12x18
30.5x45.7
$34.00
$116.00
$230.00
12x24
30.5x60.9
$51.00
$144.00
$278.00
12x36
30.5x91.4
$63.75
$181.75
$353.75
12x42
30.5x106.7
$83.00
$211.00
$403.00
12x48
30.5x121.9
$90.00
$235.00
$453.00
16x16
40.6x40.6
$46.50
$132.50
$253.50
16x20
40.6x50.8
$46.75
$139.50
$273.50
16x24
40.6x61.0
$63.50
$167.50
$314.50
20x20
50.8x50.8
$63.50
$167.50
$314.50
20x24
50.8x61.0
$81.50
$192.50
$351.50
24x24
61x61
$81.50
$199.50
$371.50
20x30
50.8x76.2
$102.00
$223.00
$402.00
24x30
61.0x76.2
$102.00
$230.00
$421.00
24x36
61.0x91.4
$123.50
$268.50
$486.50
30x30
76.2x76.2
$123.50
$268.50
$486.50
30x40
76.2x101.6
$153.00
$316.00
$566.00
40x26.6
101.6x67.6
$153.00
$310.00
$549.00
40x40
101.6x101.6
$191.00
$378.00
$660.00
30x45
76.2x114.3
$170.00
$341.00
$607.00
40x50
101.6x127
$212.50
$416.50
$730.50
40x60
101.6x152.4
$255.00
$483.00
$829.00
45x45
114.3x114.3
$276.00
$480.00
$794.00
50x50
127x127
$304.00
$532.00
$878.00
55x55
139.7x139.7
$331.50
$577.50
$955.50
50x60
127x152.4
$386.50
$632.50
$1010.50
55x60
152.4x152.4
$359.00
$613.00
$1007.00
55x65
152.4x177.8
$386.50
$656.50
$1073.50
55x70
152.4x228.6
$414.00
$692.00
$1125.00
Mid Range Canvas
Pricing table for Mid Range Canvas Prints
Print Size (in)
Print Size (cm)
Canvas Print Only

Print & 38x32 mm
stretcher Bar

Pint, Stretcher




and Float Frame

A3
29.7x42
$27.50
$106.50
$215.50
A3+
32.9x48.3
$27.50
$113.50
$234.50
A2
42x59.4
$33.00
$137.00
$283.00
A1
59.4x84.0
$82.50
$214.50
$413.50
A0
84x118.8
$123.00
309.00
$590.00
10x10
25.4x25.4
$25.00
$90.00
$172.00
10x12
25.4x30.5
$25.00
$93.00
$182.00
10x15
25.4x38.1
$25.00
$99.00
$197.00
11x14
27.94x35.6
$25.00
$99.00
$197.00
12x12
30.5x30.5
$25.00
$97.00
$192.00
12x16
30.5x40.6
$25.00
$104.00
$212.00
12x18
30.5x45.7
$27.50
$109.50
$223.50
12x24
30.5x60.9
$37.00
$130.00
$264.00
12x36
30.5x91.4
$45.00
$163.00
$335.00
12x42
30.5x106.7
$52.00
$180.00
$372.00
12x48
30.5x121.9
$62.00
207.00
$425.00
16x16
40.6x40.6
$33.00
$119.00
$240.50
16x20
40.6x50.8
$33.00
$126.00
$260.50
16x24
40.6x61.0
$40.00
$144.00
$291.00
20x20
50.8x50.8
$40.00
$144.00
$291.00
20x24
50.8x61.0
$45.00
$156.00
$315.00
24x24
61x61
$67.50
$185.50
$357.50
20x30
50.8x76.2
$58.00
$179.00
$358.00
24x30
61.0x76.2
$67.50
$195.50
$386.50
24x36
61.0x91.4
$82.50
$227.50
$445.50
30x30
76.2x76.2
$82.50
$227.50
$445.50
30x40
76.2x101.6
$105.00
$268.00
$518.00
40x26.6
101.6x67.6
$90.00
$247.00
$486.00
40x40
101.6x101.6
$135.00
$322.00
$604.00
30x45
76.2x114.3
$123.00
$294.00
$560.00
40x50
101.6x127
$159.00
$363.00
$677.00
40x60
101.6x152.4
$195.00
$423.00
$769.00
45x45
114.3x114.3
$205.00
$409.00
$723.00
50x50
127x127
$226.00
$454.00
$800.00
55x55
139.7x139.7
$246.00
$492.00
$870.00
50x60
127x152.4
$267.00
$513.00
$891.00
55x60
139.7x152.4
$267.00
$521.00
$915.00
55x65
139.7x165.1
$287.00
$557.00
$974.00
55x70
139.7x177.8
$308.00
$586.00
$1019.00