ColorNavigator
ColorNavigator is free for all users of EIZO Graphic Edge monitors. It can be downloaded from the EIZO Global website here
| | |
| --- | --- |
| Our partners at EIZO Oceania have produced a calibration guide for ColorNavigator 7 | ​ |
New and Improved for Photo to Film
Color Management Software for All Creatives
ColorNavigator 7 is the latest calibration and quality control software for ColorEdge color management monitors. It combines all the features of EIZO's previous color management software, ColorNavigator 6 and ColorNavigator NX, to create a new and improved solution for creatives in a range of fields. The proprietary software makes calibration simple and produces predictable results for photography, design, print, and video creation.
Features
Multiple Color Modes
ColorNavigator 7 includes multiple color modes so you can choose the one that matches your field's target values. Furthermore, the color mode list is populated according to the monitor's OSD menu so you can rest assured that all possible options are covered.
Calibrate All Color Modes at Once
New with ColorNavigator 7 is the ability to calibrate every color mode (Standard Mode) simultaneously so you do not have to spend time managing each one individually. This saves time and ensures your screen remains accurate no matter which color mode you work in.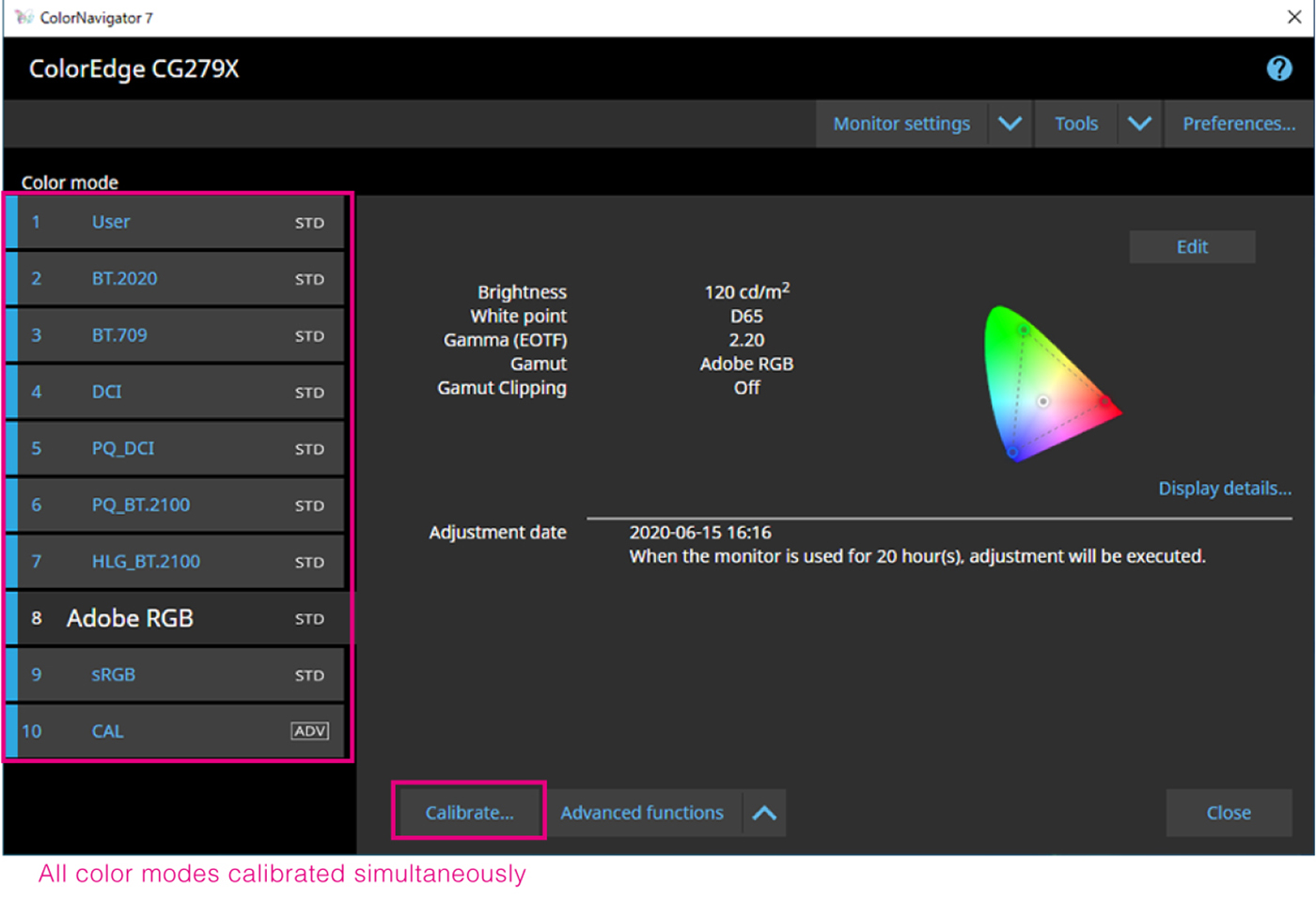 Schedule Automatic Recalibration
A monitor needs to be recalibrated at regular intervals to maintain color accuracy. With ColorNavigator 7 you can schedule the monitor to automatically recalibrate at a specific time or at regular intervals, even if the monitor is switched off. A reminder will also appear after a certain number of user-determined hours so you can be sure that your monitor maintains color consistency over time.

Features for Media & Entertainment
Film Emulation with 3D LUT
ColorNavigator 7 can create emulation data from the 3D LUT of the video content used in the color grading system for matching the look of the film on the monitor.
Supported by the CG Series only. Not applicable to the CG2730 or CG2420.
Maintain Calibration Settings with Different PCs
With ColorNavigator 7, calibration information carried out by the administrator is saved to each ColorEdge monitor instead of the operating system. This means that users do not need to recalibrate the monitor, even when using a different PC.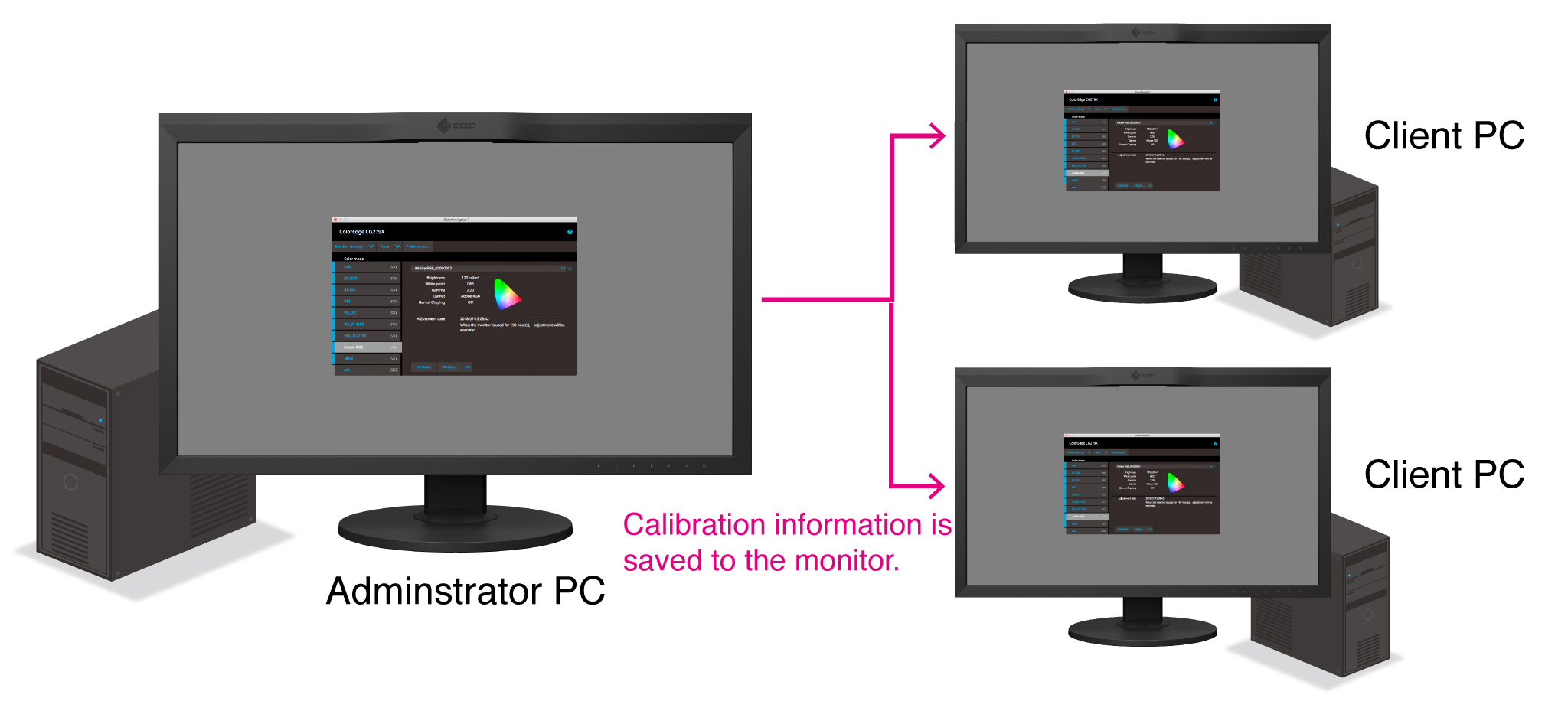 Features for Print Proofing
Fine-Tuned Manual Calibration
Sometimes due to variations in output from different printers or the special requirements of a project, it is necessary to have fine-tuned control over specific calibration targets. ColorNavigator 7 allows you to easily adjust the print proofing target's hue and saturation for all six primary and secondary colors (red, green, blue, cyan, magenta, yellow, as well as grayscale balance, to achieve the closest possible visual match.
Support in Multiple Languages
ColorNavigator 7 can be run in English, German, or Japanese by default. Users can also download language packs to run the software in other languages. New language packs will continue to be added to support users worldwide. Visit the download page for currently available language packs.
Download language packs here.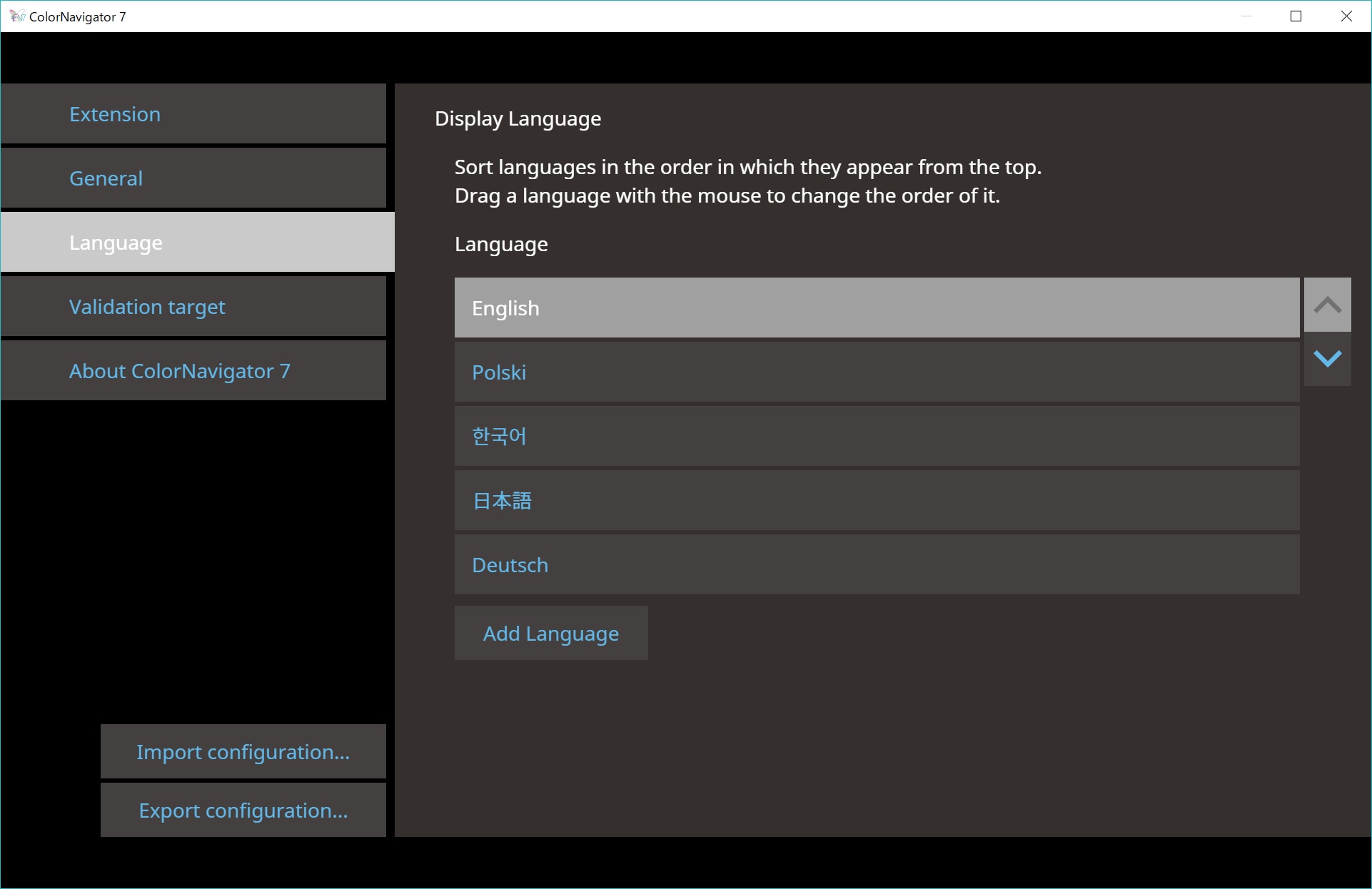 Download ColorNavigator 7
ColorNavigator 7 is available as a free download here.
---
This category is empty! Please try another category or use our search function to find what you are looking for. If you require further assistance please contact us.