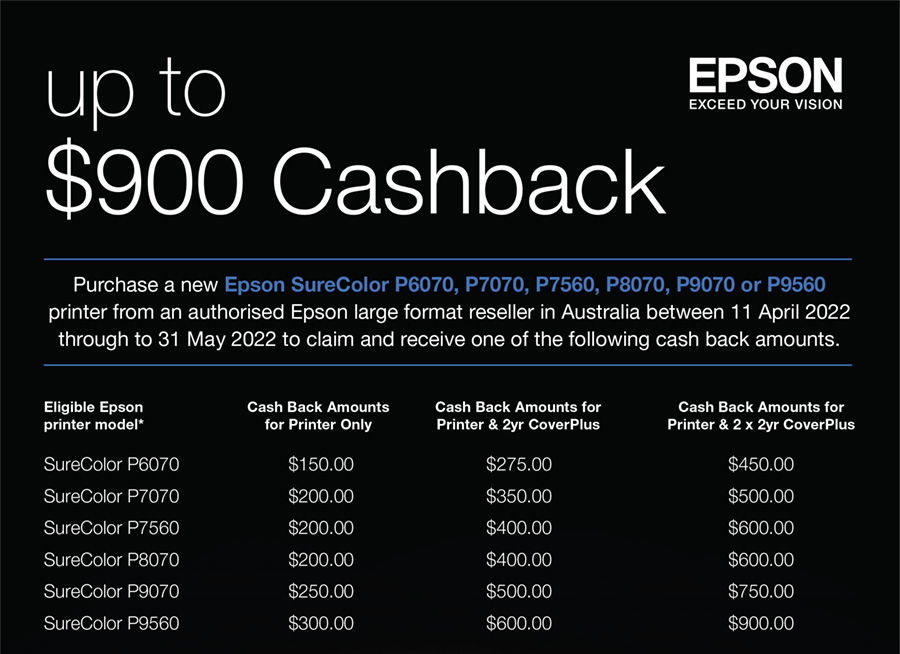 If you produce professional photography, gallery quality artwork or colour accurate proofs then the Epson SureColor Prographics range is the series of choice. It represents a pinnacle in colour printing technology with an ultra-high resolution and an incredible colour gamut. It provides outstanding output in a platform that is flexible, reliable and easy to maintain.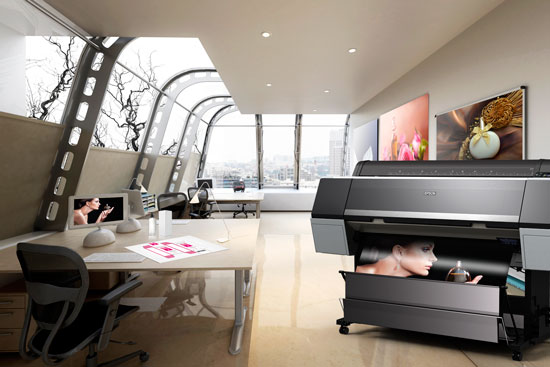 The SC-P9070 is a 44" (1118mm) Large Format Printer that is designed for premium photo, fine art, proofing & packaging design. It supports a wide range of standard and specialist media in roll and sheet formats. It features a PrecisionCore® Thin Film (TFP) head with Variable Sized Droplet Technology™ that enables the output of images in high resolution with superior fidelity and tonal gradation. It uses Epson's latest UltraChrome® HDX all-pigment aqueous ink for accurate colour with an enhanced gamut, Dmax and image durability. The printer uses a 10 colour ink configuration with two levels of black, a choice of a third black or alternative Violet ink for outstanding colour and B&W prints with up to 99% PANTONE® coverage. Cartridges come in sizes to suit various levels of use and cost per print requirements. An optional SpectroProofer (ILS30) is available for precision colour management and ISO standard proofing work.
FEATURES AT A GLANCE
Amazing Print Quality

– Epson 2880x1440dpi TFP head with VSDT enables consistent and predictable output in ultra-high resolution with superior half tones and an optimised ink density.

Supreme Colour

– 10 colour Epson UltraChrome HDX ink enables prints with a high dMax and wide colour gamut, can be configured with either Light Light Black for a 98% PANTONE certified coverage or Violet for 99% coverage.

Outstanding B&W

– produces gallery quality black-and-white images with auto switching between Photo & Matte ink for output on different media types.

Excellent Image Stability

– prints dry quickly to become water and scratch resistant. Output can be stored for extended periods with excellent lightfastness*.

Flexible Operation

– supports a wide range of media with print speeds up to 37m2/hr . Handles roll based stock up to 44" (1118mm) wide and sheets up to A1 Super B0 (including A0). Supports board up to 1.5mm thick and supports edge-to-edge and borderless printing.

Easy to Use

– features spindle-less roll media loading, adjustable tension control, an auto media management system, and a heavy duty auto cutter. Has a colour LCD control panel with integrated help and offers flexible high-speed interfacing.

Epson Print Layout Software

– This plug-in for Adobe Photoshop, Lightroom, and Nikon ViewNX-i provides a simple, easy and flexible tool for producing images to suit a variety of display requirements. Images can be printed individually or as a compound, either borderless or with a choice of border sizes and styles. An advanced gallery wrap function enables output that is suitable for mounting onto a frame. The program operates via intuitive and consistent controls that include slider bars and colour wheels for precise and easy adjustment. It includes a set of colour modes to create different finishes and moods as well as an Advanced Black and White mode. It includes a set of template Layouts, supports ICC soft proofing, Colour Production, Preview, Custom media registration & Panorama Layouts.

Designed for Business

– operates with reduced power consumption, uses 11 large and cost-effective ink cartridges (up to 700ml), optional 320GB HDD and requires minimum user maintenance. Supplied in various configurations with an optional SpectroProofer, optional Auto Take-Up System for continuous roll-to-roll production, and user selectable Epson Cover Plus service packs for cover up to a total of 5 years. Compatible with a wide range of design, production, workflow management and RIP software.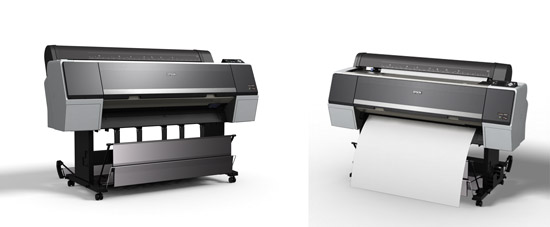 Supreme Imaging
The SureColor Prographics range features Epson's famous Thin Film MicroPiezo head technology with a 2880x1440dpi maximum print resolution. Unlike competing mechanisms that are based on heat, the TFP uses an electro-mechanical movement that is not only kinder to the ink chemistry for better imaging with more stable output, but consumes less power, is more flexible and more durable. Micro-fine drop-on-demand nozzles enable superior dot shaping with reduced overspray, more precise placement and volume/density control. The P9070 features a head with 10 channels that is complemented with an advanced LUT (Look-Up-Table) and a 11 cartridge supply system with automatic Matte / Photo Black switching that optimises the dynamic range on different media types. The printer incorporates VSDT (Variable-size Droplet Technology) that enhances image quality with superior half-tones and optimised colour density while also minimising ink consumption. A special coating on the head works in conjunction with self-monitoring, cleaning, and alignment systems to ensure predictable, consistent and reliable output with minimal user maintenance.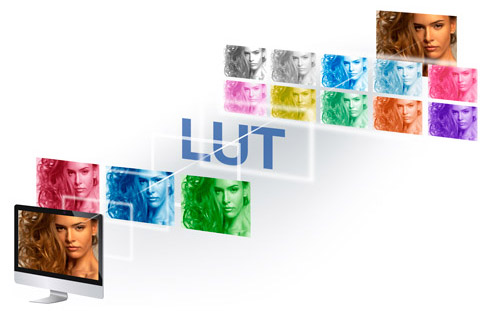 UltraChrome HDX ink is an expansion of Epson's famous HDR/K3 family and new HD series. Using an aqueous (water based) all-pigment formulation, it produces prints with an unsurpassed colour gamut that dry quickly to become water and scratch resistant. The HDX set features improved Matte and Photo Black formulations that provide an enhanced Dmax for brighter prints with an enhanced tonal range in both B/W and colour. The ink set includes light black ink for improved balance, Vivid Magenta for brighter blues and pinks, Orange for fine facial tones and lighting effects, as well as Green for superior landscape and environmental imaging. It includes a new Yellow ink that provides improved UV resistance for enhanced image stability and at initial startup the printer can be configured with either a Light Light Black ink for flexible photo and fine art work with a 98% PANTONE® coverage or Violet for specialist proofing and packaging work with a 99% coverage.***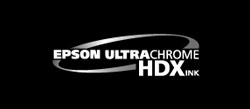 The SureColor P range is colorimetric calibrated during assembly to ensure that colour proofs, photographic and fine–art prints from different printers of the same model remain totally consistent. The ink features a colour constancy level of less than DeltaE 1.0 so that prints remain visually consistent when viewed under different lights and lighting conditions. An optional spectrophotometer is available to suit all models in the range. Co-developed with X-Rite®, the SpectroProofer provides extreme measurement accuracy and when driven with an appropriate RIP it enables precision proofing as well as the automation of colour management into operational workflows. The ILS 30 SpectroProofer mounts directly to the printer and selectable UV filtering (ISO M0, M2 & M1).
Flexible and Easy to Operate
The SC-P9070 is a floor standing printer with a 44" (1118mm) wide carriage and an integrated folding output bin. It supports a wide range of media from basic bond to photo and fine-art paper, transparent film to translucent back-lit, canvas to specialist synthetics. It accepts roll media with fast spindle-less mounting, automatic skew adjustment, and a high-speed auto-cutter which will cut most stocks including canvas. The printer supports sheet media and has a straight through paper path for solid board up to 1.5mm thick. It supports edge-to-edge printing on both sheet and roll media and will print full borderless on roll stocks. The printer ships with one roll media adaptor set that supports rolls with either 2" or 3" cores. Additional sets can be ordered separately for environments that involve high volume work and/or multiple media types. Optional roll paper belts are also available to help maintain tension in rolls during storage. A barcode based media management system helps track consumption on individual rolls while also facilitating rapid exchange with automatic re-configuration for different media types. An optional Auto Take-Up system is available for roll-to-roll printing and off-line /automated post-production.

The SureColor Prographics range has been designed for professional and commercial applications. All models feature fast and flexible networking facilities (1000Base-T). They have large colour LCD screens with an easy to follow menu system and in-built help. They can be configured remotely and have driver software to suit most operating systems. The range has been designed to enable volume production with consistent results and reliable operation with minimal maintenance. Ink cartridges are pressurised to ensure maximum output precision and feature an enhanced capacity for extended operation and with a reduced cost per print. Printers are covered with a standard 1 Year On-Site Warranty that can be extended through optional Service Packs that can be purchased concurrent with the printer or separately.**
---
* Accelerated testing of prints on specialty photo & fine art media displayed indoors under glass indicates light stability of up to 200 years for colour and 400 years for B&W. IMPORTANT: Actual stability will vary according to the media, image, surface treatment, display conditions, light intensity, humidity and atmospheric conditions. Epson does not provide any warranty or guarantee on the longevity of prints. For further details on light stability and image preservation please visit www.wilhelm-research.com.

** Service and support is provided for product supplied through Epson Australia or New Zealand. This facility is provided via the Epson Authorised Large Format Reseller network. Limitations apply to the provision of on-site service. Regional locations and certain installation situations may attract additional charges. Service may be restricted or limited when equipment is not properly maintained, is used outside of specification &/or with non-Epson consumables. Limitations apply to the number of Service Packs that can be purchased for particular printer models and the time frame during which they must be ordered. For further details on coverage, terms and conditions please review the warranty terms listed on this web-site and contact Epson or one of our Authorised Large Format Resellers if you have questions or concerns.
*** The printer ships with starter inks to support both LLK & Violet configurations. During initial set-up the selected ink must be loaded, the choice confirmed and the unused cartridge discarded. Once set-up has been completed the colour choice cannot be changed.
PANTONE® and other Pantone trademarks are the property of Pantone LLC.
(SC_P9070_PR)
SIZE
Max Print Width
44 inch (1118mm) wide
Max Sheet Size
Super B0
PRINT TECHNOLOGY
Print Head
PrecisionCore® TFP
Print Modes
Uni & Bi-directional
Print Technology
VSDT, auto head alignment, auto nozzle checking, auto cleaning, barcode print system, auto Pk & Mk switching
Nozzle Configuration
360 per colour
Active Channels
10
Max Resolution
2880 x 1440dpi
Min Droplet Size
3.5pl
INK SYSTEM
Family
Epson Ultrachrome® HDX with Light Light Black or Violet1
Type
Aqueous all-pigment
Colours
11 (Choice of Light Light Black OR Violet)*
Cartridge Size
150 / 350 / 700ml

* Configured at start-up. Once configured the colour choice cannot be changed.

PERFORMANCE (A1 sheet)
Draft
360 x 360dpi
0.8 minutes
Normal
360 x 720dpi
1.5 minutes
Fine
720 x 720dpi
3.3 minutes
Super Fine
720 x 1440dpi
8.1 minutes
Super Photo
2880 x 1440dpi
13.4 minutes

Figures represent print times only for the Epson test sample image as shown, produced on Plain (draft – fine modes) and Premium Photo paper (super fine & super photo modes). Print speeds are engine only with total throughput time dependant on workflow configuration, paper type, software, file format / size, print resolution, ink coverage, networking, and other factors.

MEDIA SUPPORT
Format
Roll and cut sheet
Size
254-1118mm wide x 150mm diameter 3" core / 103mm diameter 2" core roll, A4-B0+ sheet
Thickness
0.08-0.5mm roll / 0.08-1.5mm sheet
Min Margins
0mm top, left, right & bottom roll / 3mm top, 0mm left & right, 14mm bottom sheet
Loading
Front spindle-less single roll / top single sheet
Handling
Auto and manual tension control, high-speed heavy-duty rotary auto-cutter (under 4s per page) & Media Barcode System
Manual Double Sided Printing
Please refer to user guide, and contact Epson or your authorised dealer before selecting any media for this purpose in order to check suitability.
Output
Integrated folding bin
OPERATION
Control Panel
2.7" Colour LCD
Interface
High Speed USB 2.0
Ethernet 10Base-T / 100Base-TX / 1000Base-T
Included Software
Printer Driver, LFP RemotePanel 2, EpsonNet Setup, EpsonNet Config EpsonNet Print (Windows only), Epson Color Calibration Utility
Web Downloads
Web Downloads: LFP Accounting Tool, Epson Print Layout, HDD Utility Software, LFP print plug-in for Office
HDD (optional)
320GB
OS Compatibility
Mac OS X 10.6.8 or later, Windows 10, Windows 8/8.1, Win 7, Win 7 x64, Win Vista, Win Vista x64 & Win XP
Software Compatibility
Compatible with a wide range of design, production, workflow management and RIP software
Memory
1GB Main + 64MB Network
Language
ESC Raster
ENVIRONMENTAL
Operational Temp
10° to 35° C (15-25° C recommended)
Operational Humidity
20 to 80% with no condensation (40-60% recommended)
Power Supply
100 - 240 V, 50 Hz - 60 Hz AC, 2A
Power Consumption
75W Operating / Standby 19W / 2W Sleep
Operating Noise
47dB
PHYSICAL
Dimensions
Paper Basket Closed: 1,864mm x 1,218mm x 667mm (WxHxD)
Paper Basket Open: 1,864mm x 1,218mm x 1,318mm (WxHxD)
Weight
135kg (without ink)
WHAT'S IN THE BOX
Printer, Stand, Power Cord, Set of 110ml Inks (20-50% of each loaded cart will be used to charge the machine during initialisation and the unused LLK OR Violet cart must be discarded), 1 x Roll Media Adaptor Set, 1 x Maintenance Tanks, Installation / Safety manual, Utility software & User manual (CD)
Packaging
2039 (W) x 830 (D) x 1070 (H) mm, 197kg
CONFIGURATION OPTIONS
SCP90701YR
Printer with 1 Year On-Site Warranty**
SCP90703YR
Printer with 2 Year CoverPlus On-Site Service Pack (total 3 yrs cover)**
SCP90705YR
Printer with 2 x 2 Year CoverPlus On-Site Service Packs (total 5 yrs cover)**
SCP9070SP1YR
Printer + S-Proofer ILS30, 1 Yr CoverPlus On-Site Warranty**
SCP9070SP3YR
Printer + S-Proofer ILS30, 2 Yr CoverPlus On-Site Service Pack (total 3 yrs cover)**
SCP9070SP5YR
Printer + S-Proofer ILS30, 5 Yr CoverPlus On-Site Service Pack (total 5 yrs cover)**
ACCESSORIES & OPTIONS
C12C811241
Additional Roll Media Adapter set
C12C890121
Optional Roll Paper Belt
C12C815331
Replacement Auto Cutter Blade
C13T699700
Replacement Maintenance Tank
C12C815321
Optional Auto-Take-Up System
C12C848031
Optional 320GB HDD
SPECTR44SP
SpectroProofer ILS30 Upgrade Kit
1YWSCP9070
1 Year CoverPlus On-Site Printer Service Pack**
2YWSCP9070
2 Year CoverPlus On-Site Printer Service Pack**
1YWSPECTRO
1 Year CoverPlus On-Site Spectro Service Pack**
2YWSPECTRO
2 Year CoverPlus On-Site Spectro Service Pack**
** Epson CoverPlus Service Packs enable basic warranty cover to be extended. One or more Service Packs can be ordered in conjunction with the various printer configurations &/or options to enable cover for 1, 2, 3, 4 and 5 year periods (total cover cannot exceed 5 years). Service and support is only provided for product supplied through Epson Australia or New Zealand. This facility is provided in conjunction with the Authorised Large Format Reseller through which the product is ordered. Limitations apply to the provision of warranty upgrades and on-site service. Regional locations and certain installation situations may attract additional charges. Service may be restricted or limited when equipment is used outside of specification &/or with non-Epson consumables. For full details on coverage, terms and limitations please review the warranty terms listed on this web-site and contact Epson or one of our Authorised Large Format Resellers if you have questions or concerns.
1 At time of installation the end user needs to choose to configure the machine with either Light Light Black or Violet ink. Once this choice has been made it is final and cannot be undone or switched at a later time
Usage Conditions
Epson products are designed to give highly reliable use and long life when used according to specifications. With any product or device used in situations where human life may be involved or at risk, Epson advises that you should take all necessary steps to ensure the suitability of your Epson product for inclusion in your system, and recommends that you include fail-safe procedures and redundancy support or backup equipment in your system, to maintain the maximum safety margin and optimum system reliability. Examples include but are not limited to – do not interfere with any electrical components within the device,do not use items supplied with the product for purposes other than as intended by Epson (ie mains cords, inks, CDs, plastic wrapping), do not make modifications to the product, take care with the use of 3rd party consumables, consult Epson if you have any questions or concerns.
| | |
| --- | --- |
| SKU | SC_P9070_PR |
| Brand | Epson |
| Unit Of Measure | ea |
Australian Consumer Law Prescribed Statement
Our Products come with guarantees that cannot be excluded under the Australian Consumer Law ("ACL"). You are entitled to a replacement or refund for a major failure and for compensation for any other reasonably foreseeable loss or damage. You are also entitled to have the Products repaired or replaced if they fail to be of acceptable quality and the failure does not amount to a major failure.
Introduction
This Express Warranty is in addition to other rights or remedies that You may have under the ACL in relation to your product.
Definitions
In this Express Warranty:
"ACL" means the Competition and Consumer Act 2010 and regulations.
"Consumable" include (without limitation) ink cartridges, paper, maintenance tanks, cleaning pads, cutter blades, pump cap assembly, flushing box, wiper blades, paper feed rollers and cleaning unit.
"Epson Australia" means Epson Australia Pty Ltd ABN 91 002 625 783.
"Factory Second" means a Product expressly sold by Epson Australia as a second.
"Genuine" means manufactured by or for a member of the Seiko-Epson group of companies.
"Onsite" means at your business premises in Australia.
"Product" means a Genuine Large Format Printer supplied new by Epson Australia, being one of the following models:-

Epson Stylus Pro 4900
Epson Stylus Pro 7900
Epson Stylus Pro 7900CTP
Epson Stylus Pro WT7900
Epson Stylus Pro 9880
Epson Stylus Pro 9890
Epson Stylus Pro 9900
Epson Stylus Pro 11880
SureColor SC-P800*
SureColor SC-P5070
SureColor SC-P6070
SureColor SC-P7070
SureColor SC-P8070
SureColor SC-P9070
SureColor SC-P10070
SureColor SC-P20070

"Marketing Initiative" includes any competition or promotion initiated by Epson Australia.
"Purchase Date" means the date of a Product's first purchase from Epson Australia or a Stockist.
"Proof of Purchase" means a legible copy of your purchase receipt or invoice for the Product.
"Specifications" means the performance characteristics of a Product set out from time to time on Epson Australia's website.
"Stockist" means an authorized Epson PRO Graphics dealer.
"Service Agent" means a person or a company authorized by Epson Australia to repair a Product.
"You" means the End User and "your" has a corresponding meaning.
"Component" means any spare part or other user replaceable item that forms a part of the Product and which may be replaced from time to time.
"Life Expectancy" refers to the volume of output and age of a Component or Product. The volume and age must be considered together with the final figure dependant on whichever occurs first. The general life expectancy of these Products is 5 years where the period of 5 years is based on 1 shift of 8 hours per day over 5 days per week.
Express Warranty Terms
Epson Australia offers an Onsite Express Warranty on your Product subject to the following conditions.
Epson Australia warrants that your Product will be free from any defect in materials or workmanship for one (1) year (or, in case of a Factory Second, for six (6) months months unless otherwise advised by Epson) after your Purchase Date.
At its discretion, Epson Australia will either repair or replace your Product, if it is found on inspection by Epson or a Service Agent to have any such defect within the relevant Express Warranty period.
A Stockist who sells a Product to you has no authority from Epson Australia to give you any additional Express Warranty or guarantee in relation to your Product or to make any statement (other than what is contained in the Specifications) about:
a Product's performance or fitness for any specific purpose; or
the currency or application of any Marketing Initiative.
Epson Australia will not be liable for any consequential loss or damage claimed to arise from your use of the Product. In particular (but without limitation) Epson Australia will not be liable for actual or expected revenue loss or for any corruption or loss of data claimed to arise from your use of the Product.
Express Warranty Claim Procedure
If you wish to make a claim under this Express Warranty, you must do the following:
First call the Stockist from which you purchased your Product to identify and rectify (if possible) any fault
If the fault cannot be identified and rectified as above, you should call Epson Australia on 1300-131-928 for the location of your nearest Service Agent and then provide that Service Agent with satisfactory proof of your Purchase Date, to show that this Express Warranty applies to your Product at the date of your claim
If your Product is located within an 80-kilometre radius of a Service Agent you will be entitled to receive Onsite Express Warranty service.
If your Product is located outside this radius, you must, either bear the cost and risk of having your Product delivered to and returned from a Service Agent for Express Warranty service, or pay the Service Agent's reasonable travel and accommodation costs to provide you with Onsite Express Warranty service
If a Service Agent provides Onsite Express Warranty service but finds that any fault is not directly related to a breach of this Express Warranty, you must pay its current service fee and its reasonable travel and accommodation costs on a return basis (if applicable) to provide you with Onsite Express Warranty service.

Express Warranty Application
This Express Warranty applies only:
To a Product sold to You by Epson Australia or by a Stockist; and
You have not bought the Product for resale.

Express Warranty Exclusions
This Express Warranty will not apply if any of the following occurs during the applicable Express Warranty period stated above:
A Product's serial number or any rating label is removed or changed in any way;
A Product is serviced or repaired or modified by anyone other than by a Service Agent;
You use a Product contrary to the technical or operating environment guidelines recommended in the Epson Australia user guide or manual;
A component part of your Product, (including but without limitation its waste pads), reaches the end of its service life; or
A Product's malfunction or failure to perform according to Epson Australia's specifications results from:

deliberate or accidental damage;
neglect or modification by or on behalf of an End User;
the use of incorrect voltage or a power surge;
any form of computer virus;
the use of non-Genuine consumables, software, replacement parts, accessories and/or interfacing; or
any parts require repair or replacement as a result of normal wear and tear, corrosion or stain.
Non-Genuine Items
If you use non-Genuine Consumables, software, replacement parts or accessories in or with your Product during the relevant Express Warranty period, you may damage the Product and may consequently invalidate this Express Warranty and you may incur the cost of return travel, labour and parts for a Service Agent to repair or attempt to repair such damage.
Details of the company giving this Express Warranty
Epson Australia Pty Ltd
3 Talavera Road, North Ryde, NSW 2113.
Phone 02 8899 3666
Epson Australia Customer Service: 1300-131-928
Website: www.epson.com.au
Technical Downloads: http://tech.epson.com.au/

Explanatory Notes
Hours of Operation
Monday through Friday from 8.30am to 6.00pm (AEST)
Standard Service Response Rate
Epson Australia Pty Ltd offers an eight (8) working hour response time on normal business days for Express Warranty repair work on all Large Format Printers, except the SureColor P800.
*SureColour P800 is covered by a "next business day" onsite Express Warranty in major capital cities.
On-Site Service Coverage
Epson Australia Pty Limited will perform Onsite Express Warranty repair work within an 80 kilometre radius from its nearest service centre, in the following areas; Sydney, NSW Central Coast, Newcastle, Wollongong, Canberra, Melbourne, Hobart, Launceston, Brisbane, Adelaide, Perth, and Wagga Wagga.
Epson Australia is continually focused on improving it's geographical service coverage, so please do not hesitate to contact our customer service centre for newly appointed service centres beyond these areas.
Life Expectancy
Product
Mechanical Life Rating
SC-P6060
SC-P7070
5 years or 20,000 ISO & JIS A1+ sheets
5 years or 20,000 ISO & JIS A1+ sheets
SC-P8070
SC-P9070
5 years or 20,000 JIS B0+ sheets
5 years or 20,000 JIS B0+ sheets
SC-P10070
SC-P20070
5 years or 18,000 JIS B0+ sheets
5 years or 18,000 JIS B0+ sheets

Be The First To Review This Product!
Help other Full Gamut Pty Ltd users shop smarter by writing reviews for products you have purchased.
---
We Also Recommend
---
Others Also Bought
---
More From This Category